There is no denying the fact that where we are raised can contribute dynamically to the way our diet works. If you were born in the Southern United States then you probably have an affinity for fried foods, hearty greens, and meat. If you were born somewhere in Asia then you probably really dig certain noodle based dishes as well as seafood. Normality is an acquired taste and the food outside of your kitchen is so much more exciting than what the delivery guy is bringing to you. So we decided to dig deep and take a look around the globe to find 11 of the strangest meals that people are still cooking. Get settled in and get your exotic appetite ready, these meals are absolutely bizarre.
Akutaq
Having conventional ice cream while living life as an Eskimo in Alaska would be pretty boring, right? So this dish is a spiced up version of what we conventionally believe to be a creamy and sweet treat. Akutaq is a dish most commonly found in Western Alaska and it consists of an array of different ingredients — none of which will capture your sweet tooth. The most common way this Alaskan dish is made includes reindeer fat, ground up fish, fresh snow, berries, and seal oil all whipped into a creamy, fluffy concoction. The end result is a black and pink fluff that will either have you scooping up seconds or bringing your plate straight to the washing machine.
Beondegi
Korea is home to, perhaps, the most inventive and wacky film industry in the entire world. That same enthusiasm for 'different' easily finds translates to South Korean food as well. The Beongdegi, steamed silkwork pupae, looks like a treat pulled straight from a Men in Black movie. Beondegi is a popular snack in Korea that tastes somewhat like chestnuts, soy beans, and mushrooms all at once. We think the meal simply looks mushy and sort of alien, like you are eating giant boiled worms — which isn't entirely untrue.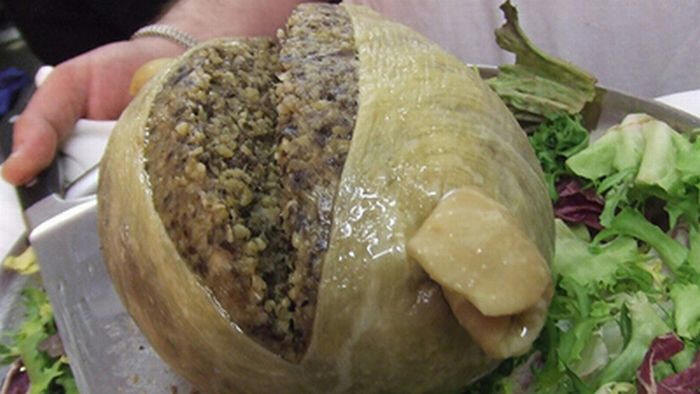 Casu Marzu[/caption]
Mosquito Eggs
The old adage about life giving you lemons seems to ring particularly true in Mexico where the locals have turned mosquitos into something of (slight) value. Apparently mosquito eggs are quite the treat over in Mexico. They are harvested and then dried out to prevent hatching. After being dried they will typically then be roasted and used as an additional element to both tortillas or other appetizers that could use a bit more filling. Apparently mosquito eggs taste quite fine with a little bit of lime or lemon splashed onto them. There is no insect we hate more than the mosquito so perhaps this would be a chance to get a little bit of feedback and turn the tables on the whole biting situation.
Ikizikuri
This is probably going to be the most brutal and controversial dish on the entire list. Ikizikuri is a serving of fish that the customer picks out of a tank before they eat. The chef will then fillet the fish in front of the customer, without killing it, in order to serve the fish alive–heart still beating. The fish is then eaten alive by the customer or, conversely, put back in the tank until they are ready to finish the meal. Ikizikuri has already been banned in a bunch of countries including Australia as well as Germany.
Guinea Pig
In North America a guinea pig is a cute little pet that you give to young boys and girls. In South America a guinea pig is the perfect entree, especially when deep fried and served with a plate of veggies. Guinea pigs are popular all over South America thanks to their oily texture and taste that resembles some sort of mixture of pork and rabbit, with a touch more of the gamey factor. If you are a pet lover we understand if you couldn't push yourself to pick up a shishkabob of guinea pig.
Hakarl
Hakarl is a kind of seafood dish not good for those with a delicate dining lexicon. Hakarl is most often made and served in Iceland and it consists entirely of shark meat. In order to prep and serve this meal you have to catch a Basking or Greenland shark. You then gut the shark and allow the skin to reseal while you hang it up to dry for up to four months. Over this period of time the shark will ferment and start to smell strongly of ammonia. Considered a delicacy, chef Anthony Bourdain called it the most disgusting dish that he had ever put near his mouth. We'll take his word for it because rotting shark does not sound like the adventure we are into.
Sannakji
With a surplus of fine sushi restaurants making their way West it doesn't surprise us to see the dining on of raw fish become sort of the norm. You know what that means, right? It means that the culinary world needs to go to the next level to keep us on our toes and that is exactly what Korea accomplished with Sannakji. Sannakji is considered a delicacy but what we call it is an eating adventure. This dish consists of a baby octopus that is still alive, only it is sliced up and topped off with sesame oil. As you eat the dish the tentacles will start to twist and squirm and if you aren't careful the little suckers on the tentacles will stick to the inside of your mouth and throat. Eating Sannakji in some parts of the world is considered a right of passage but it is one best done carefully as there have been fatalities linked to choking on the meal.
Deep Fried Tarantula
There are probably many social and geographical differences between Cambodia and the rest of North America. These differences become all the more startling when you compare the type of cuisine that each respective country chooses to eat. For most Americans the simple sight of a tarantula would be enough to induce goosebumps and a grimace. In Cambodia these furry insects are captured and then summarily deep fried and served in restaurants as a meal. Of course, you can't have a tarantula without a side of spider eggs. We're shivering just looking at the pictures of this meal. Yuck.
Fugu
In America we typically say that a great meal is "good enough to die for". In Japan that phrase could be construed as the simple truth. Fugu, which has been featured in numerous foodie television travel shows, is a Japanese dish that focuses on the puffer fish. The puffer fish is full of poison, tetrodotoxin, and is considered lethal if ingested in high enough concentrations. If you want to try Fugu then you'll need to go to a specially trained cook in order to get yourself a chance at eating it. In order to be licensed to serve Fugu a chef has to undergo up to three years of training while also passing a certification test. The Fugu itself tastes bland outside of the tiny bit of leftover poison that the chef leaves in the fish. The bit of poison will cause your lips to tingle and your lips to go a little numb.
Balut
Any time there is a meal that will legitimately make us squirm it merits immediate consideration on a list like this. Balut is one of the most common bizarre meals that people talk about when discussing 'extreme foods' and for good reason. Balut is a dish that will have you running to the bathroom if you aren't ready for what you are going to see. This food takes a fertilized chicken egg, or duck, and allows the chick inside to almost completely develop before boiling the entire egg. From there you crack off the shell like any other hard boiled egg and feast on the chicken/duck and egg all at once. This meal is common all over the Philippines and Vietnam and typically sold street side. The flavor is mild, tasting just like chicken and eggs, but the appearance will do many people in.